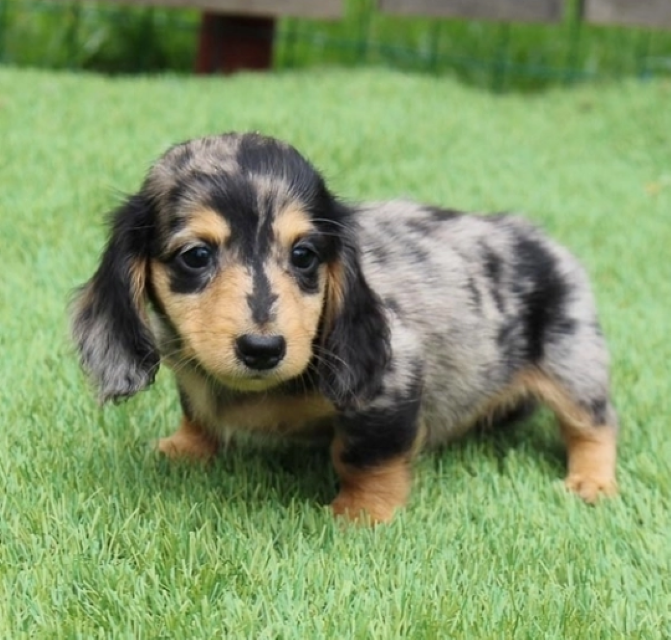 Dawn(Girl)SOLD
Age: 9 weeks
Including: AKC Registered, Health Guarantee, Shot Records, Pet Packs
Color Black & Tan
Mom's Weight 9 – 12 lbs
Dad's Weight 10 – 12 lbs
Registry AKC
Variety Miniature Long Haired
About Dawn
Are you in search of the dearest and most loved puppy on earth? Well, look no further, because I'm here. My name is Dawn, and I'm the cutest puppy that ever lived. My affectionate kisses will steal your heart over with the first one. I will arrive at my new home healthy, happy, vet checked, and up to date on vaccinations. So, as you can see, I am the perfect best friend. Aren't you excited? Just remember, I'm waiting on you!"
CONTACT US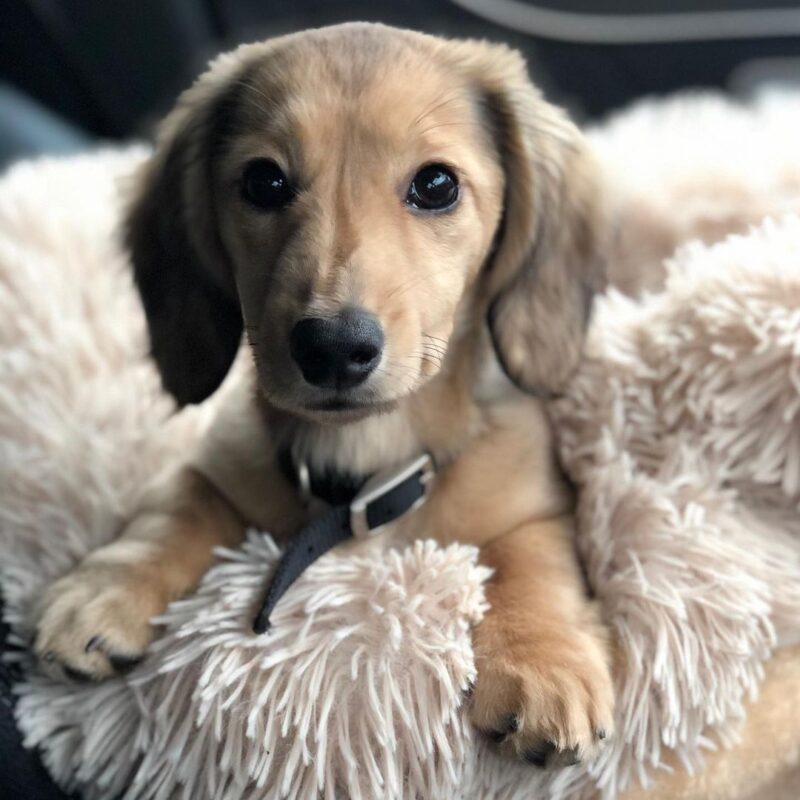 Stella(Girl)$800
Age: 10 weeks
Including: AKC Registered, Health Guarantee, Shot Records, Pet Packs
Color Cream
Mom's Weight 8 – 9 lbs
Dad's Weight 9 – 10 lbs
Registry AKC
Variety Miniature Long Haired
About Stella
She loves to get dressed up and strut around for everybody! She has the sweetest personality of all. Stella likes attention and for you to brag on her. Pleasing you just get her so excited and happy. She loves kisses on the neck
and cuddling for her naps. Stella will have her vet check from head to tail before she arrives at your home. And she wants you to know she is working on her manners every day!
CONTACT US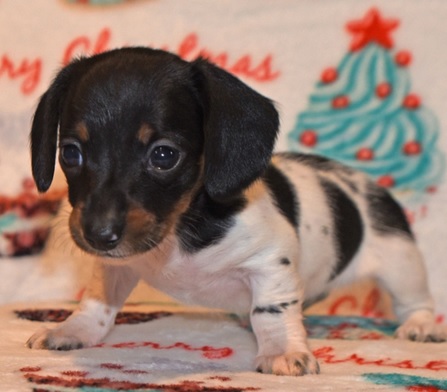 Gigi (Girl) $700
Age: 9 weeks
Including: AKC Registered, Health Guarantee, Shot Records, Pet Packs
Color Black and White Piebald
Mom's Weight 10 – 12 lbs
Dad's Weight 10 – 12 lbs
Registry AKC
Variety Miniature Smooth Haired
About Gigi
Hi, my name is Gigi, and I am the companion you have been looking for! I am the true definition of man's best friend. I will arrive at my new home up to date on my vaccinations and vet checked from head to tail. We can play fetch or go for a walk; it does not matter, as long as I am with you. Pick me, you will not regret it! Call me today before it is too late! Thank you so much for your time as we wait on your update.                                                                     
CONTACT US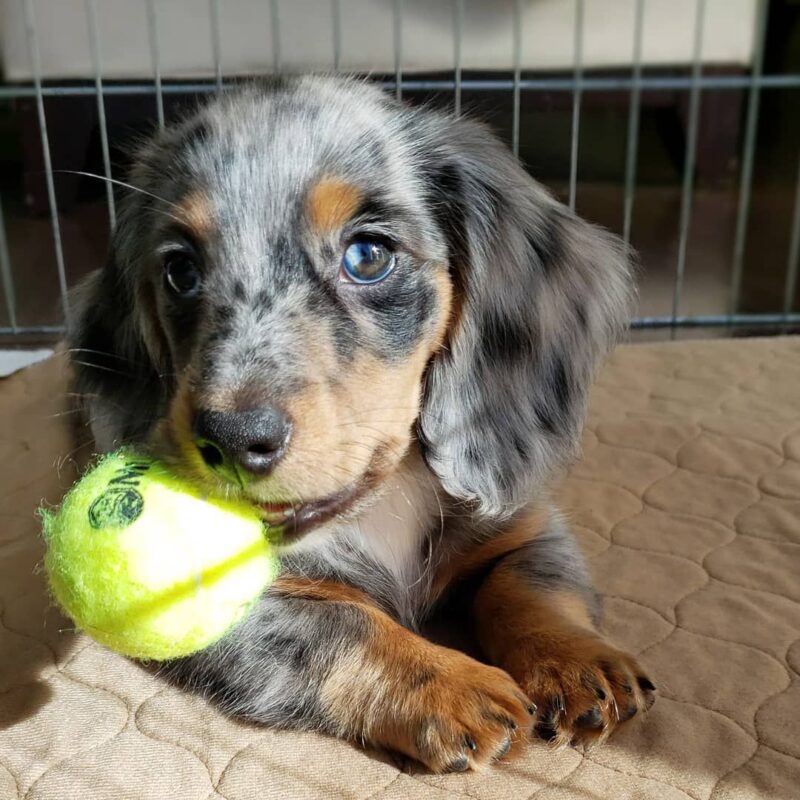 Theo(Male)$800
Age: 10 weeks
Including: AKC Registered, Health Guarantee, Shot Records, Pet Packs
Color Silver Dapple
Mom's Weight 9 – 12 lbs
Dad's Weight 10 – 12 lbs
Registry AKC
Variety Miniature Long Haired
About Theo
Theo is a striking, silver dapple long-haired dachshund puppy. He loves to play and have fun. Not only that, but he is a very loving boy with lots of time to snuggle and take naps. He will be up-to-date on his puppy vaccinations and vet checks just in time to come to his new home. He will be sure to steal your heart away. Bring Theo home today and add the spice to your life! I am the perfect best friend. Aren't you excited? Just remember, I'm waiting on you!"
CONTACT US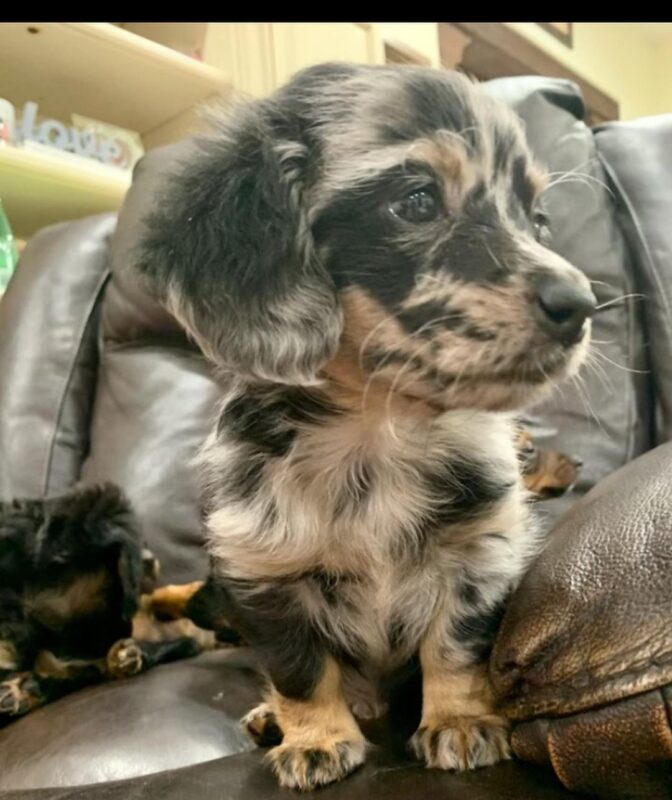 Tank(Male)$800
Age: 10 weeks
Including: AKC Registered, Health Guarantee, Shot Records, Pet Packs
Color Black & Tan
Mom's Weight 9- 10 lbs
Dad's Weight 10 – 12 lbs
Registry AKC
Variety Miniature Long Haired
About Tank
This is Tank! This little man will steal your heart. He is a nice black and tan piebald that loves to roam and play! Not only is he quite the looker, but he has been seen by his vet and is up-to-date on his vaccinations, so he is ready to go! Do you need a family companion or a good napping buddy? Look no further! What a handsome man! Call today to make him yours! I am the perfect best friend. Aren't you excited? Dachshund Puppies For sale near me
CONTACT US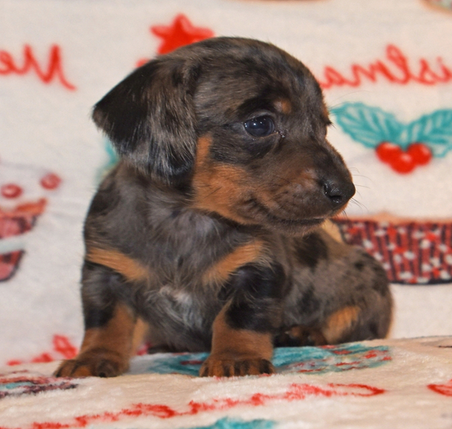 Mango(Male)SOLD
Age: 9 weeks
Including: AKC Registered, Health Guarantee, Shot Records, Pet Packs
Color Blue & Tan
Mom's Weight 10 – 12 lbs
Dad's Weight 10 – 12 lbs
Registry AKC
Variety Miniature Smooth Haired
About Mango
Are you looking for the best puppy ever? Well, you found me! My name is Mango and I am the best! How do I know? Well,
just look at me. Aren't I adorable? Also, I come up to date on my vaccinations and vet checked from head to tail, so not only am I cute, but healthy too! I promise to be on my best behavior when I'm with my new family. I'm just a bundle of joy to have around. Thank you so much. Dachshund Puppies For sale near me
CONTACT US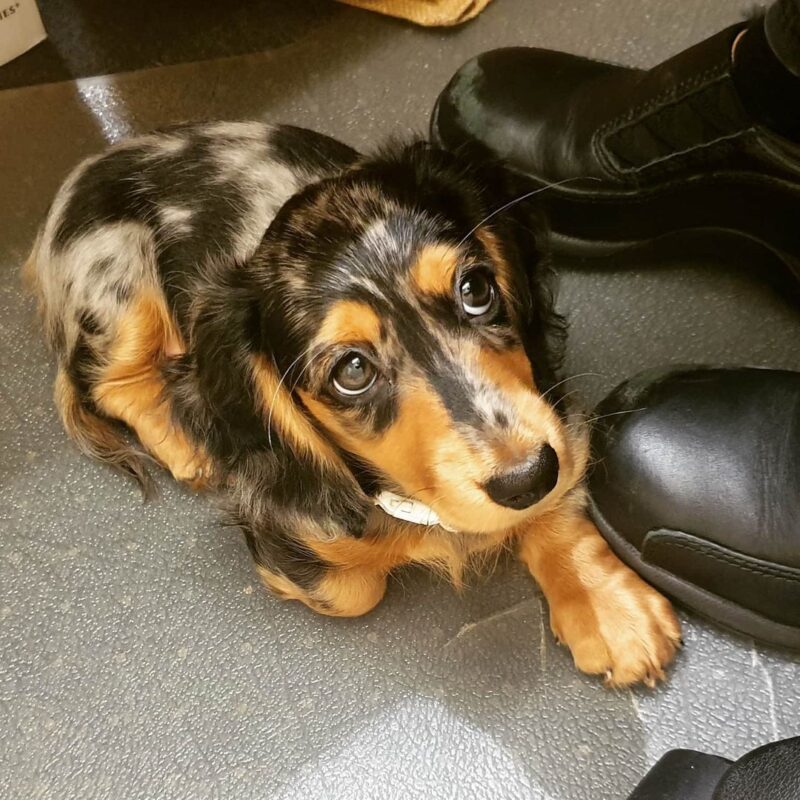 Dogy(Male)$700
Age: 10 weeks
Including: AKC Registered, Health Guarantee, Shot Records, Pet Packs
Color Black and Tan
Mom's Weight 9 – 10 lbs
Dad's Weight 10 – 12 lbs
Registry AKC
Variety Miniature Long Haired
About Dogy
"Hi! My name is Dogy and I promise to be the meaning of love. Someone who makes you feel good about living, who brings out what you like best. Someone to share joy, laughter, and even someone to comfort you when times are tough. Likewise, someone to love you more than anything else in this world. A companion who accepts you for the person that you are without judgment. This is what I will be for you. Dachshund Puppies For sale near me
CONTACT US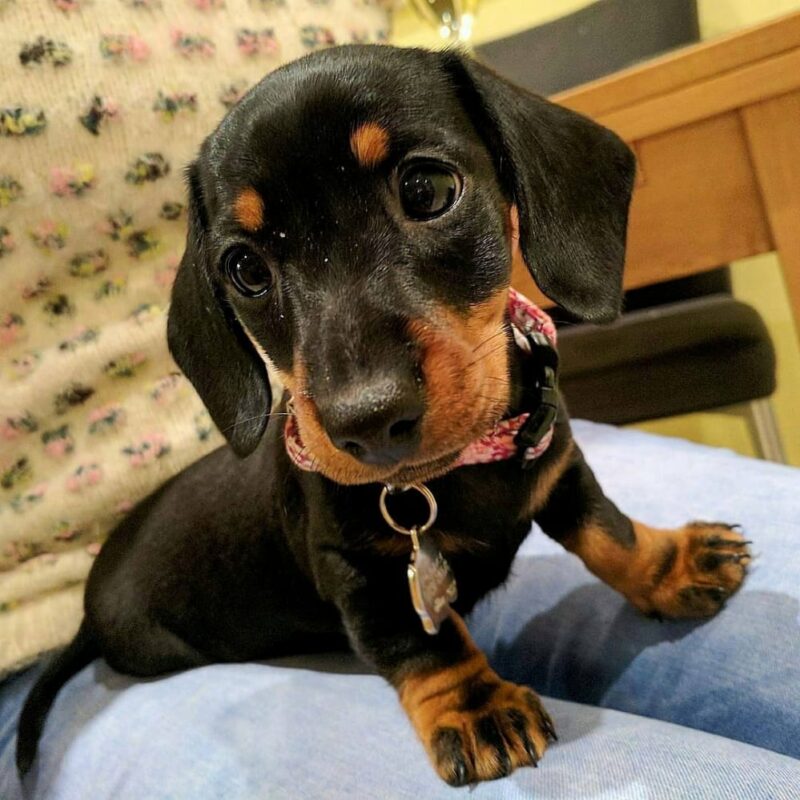 Tron(Male)$750
Age: 10 weeks
Including: AKC Registered, Health Guarantee, Shot Records, Pet Packs
Color Black & Tan
Mom's Weight 10 – 12 lbs
Dad's Weight 9 – 10 lbs
Registry AKC
Variety Miniature Long Haired
About Tron
Tron is quite the loving companion. He will make you wonder how you ever got along without him. He will surely make you smile with all his adorable antics. Shazam hopes he can go home to you today so that he can bring you all his love and puppy kisses. This cute boy promises to always be by your side as your most faithful, four-legged companion. Wouldn't you love to make Tron yours today? Don't miss out! Dachshund Puppies For sale near me
CONTACT US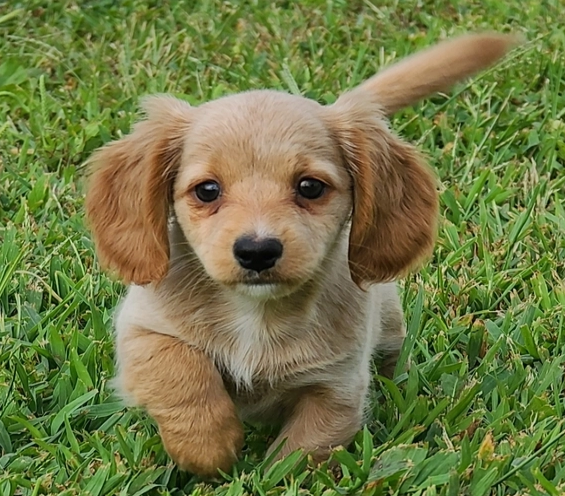 Peaches(Girl)SOLD
Age: 9 weeks
Including: AKC Registered, Health Guarantee, Shot Records, Pet Packs
Color Cream
Mom's Weight 9 – 10 lbs
Dad's Weight 10 – 12 lbs
Registry AKC
Variety Miniature Long Haired
About Peaches
Meet Peaches. She is sure to be the star of your home. She has a great look, so she will be sure to turn heads. Peaches is quite the lover too, so be ready to be showered in puppy kisses because she is not afraid to give them out! Whether snuggling up on the couch or romping around out in the yard, you'll always love having this sweetheart by your side. So what are you waiting for? Make your dreams come true and call today. Dachshund Puppies For sale near me
CONTACT US